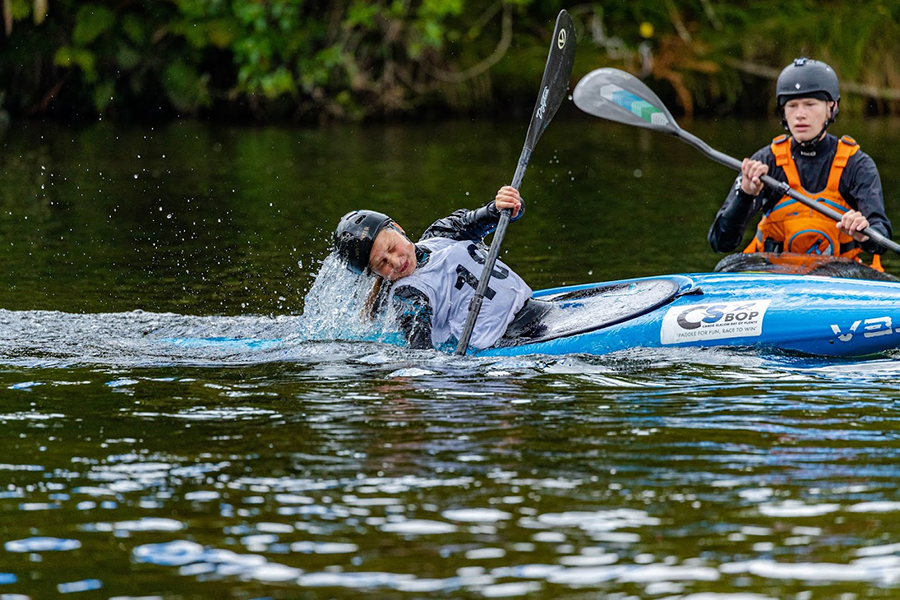 Learning to Roll: From students to Instructors
Learning to eskimo roll is an important skill for canoe slalom paddlers, and kayakers in general, so that when they tip upside down they can easily right themselves and continue paddling.
New paddlers can learn to roll in a pool, where water currents and temperature have little impact, and Otumoetai Pool is fantastic for this.  The Club has been running sessions on Thursday nights during term time for the last few years.
Our Senior paddlers teach younger paddlers to roll, and over the years the cycle continues, with these younger paddlers in turn teaching the upcoming paddlers in 3-4 years time.
Both older and younger paddlers love the interaction.  Older paddlers remember what it was like to learn, and have mastered their rolls and can share tips and tricks.  The younger paddlers have fun and learn a great life-long skill.
CSBOP: Our Club
CSBOP members range from AIMS Games novices to Olympians.
We have two Coaches who provide daily training during term time and residential camps in the school holidays.
Our members compete in the BOP Champs, North Island Champs, New Zealand Secondary Schools Champs (NZSS) and the NZ Nationals. Top performers can be selected for NZ Development Academies. Every four years the opportunity arises to compete for NZ at the Youth Olympic Games. AIMS is modelled on the YOG race format. NZ sent three canoe slalom athletes in 2018, two were from CSBOP and we came back with a Silver Medal.
Those who go onto High Performance and Development Pathways can represent NZ at World Cups and the World Championships. Our 2016 Rio Olympians Luuka Jones (Silver) and Mike Dawson, plus our 2020 Tokyo Olympians Luuka and Callum Gilbert all started in our CSBOP training programmes. Could you be next?

Contact Name: Dan Munro
Email: coachdan@canoeslalombop.co.nz
Phone: 027 543 1522